About 3 years ago I published my first review about Reinvest24. Back then it was a new crowdfunding platform providing an opportunity to invest in rental real estate as well as loans backed by real estate. It was hardly a review. More like first impressions, since my experience with the platform was very short. I was quite impressed with the idea but quite uncertain of how it will work in long term. Three years later I can say that I am relatively confident with Reinvest24 and very happy with my results as well as the platform's development.
The last year 2020 was very turbulent for many platforms on the P2P lending scene. For some of them, the troubles continue, but some are nailing it and using this uncertainty on the market as an opportunity to grow. Reinvest24 is one of the most outstanding examples of such growth.
What is Reinvest24?
Reinvest24 is a real estate crowdfunding platform from Estonia, that offers an opportunity to invest in different types of loans secured by real estate. They are best known for their rental projects, whereby investing a relatively small amount (starting from just €100), you get the same benefits as owning the property.
I have been investing with them for more than 3 years and I am extremely satisfied with the results, as well as how the platform is developing day by day. In this article, I share my personal experience with the platform and some of its major developments during this period.
Kick start your real estate investments
If you are new to investing in real estate, probably Reinvest24 is one of the best platforms to start with. Here is a €10 welcome bonus for you if you register from this link https://bit.ly/ReinvestSN.
Right now, Reinvest24 has an Autumn bonus campaign for new investors going on, which will give you the opportunity to get the bonus up to €200, after investing more than €500. If you aren't already an investor on Reinvest24, better don't pass on this opportunity, as the platform is gaining momentum. Check details and conditions for the bonus here.
But don't rush to invest right away! I recommend you to read the full review and make sure you understand the nature of this type of investment and associated risks before you decide to invest. If you have questions or want to hear different investors' opinions just join our P2P Investing group on Facebook.
Reinvest 24 platform development
Reinvest24 is one of my favorite platforms for real estate investing. During 3 and a half years of their operations, they built a community around more than 11,000 investors, funded almost €15M in loans, and still maintained an excellent result of the project's performance, as their default rate is 0%.

As per loans funded, in the chart below, you can see Reinvest24 growth over the past 12 months, compared with the previous year. The volume of projects published also raised, as well as the speed of funding. For example, if previously some of the projects required a few months to get funded, now it takes even a few hours.
Geographical expansion
The most surprising news was their expansion to 4 new markets. Now, apart from Estonia, it is possible to invest in Latvia, Moldova, Spain, and Germany. As per the last 2 countries, they even opened branches there. Read more information about that in their expansion blog articles here and here. After EstateGuru, it is the second platform from the Baltics to enter the German market. I am quite interested in the German real estate market that's why I make an interview about this topic with Reinvest24 CEO Tannel Oro. You can watch it on my YouTube channel.
Also Moldovan market is interesting for investing right now and it is the first platform to offer projects from this developing country. Maybe, I will also publish another article, taking a closer look at all 5 markets presented and trying to find the pros and cons of each.
Long-awaited secondary market
About a year ago, Reinvest24 launched the secondary market, which I also had an exclusive opportunity to test before it became publicly available. The main advantages of this tool are:
You can reinvest your monthly rental payouts, even €1, thus applying the strategy of compound interests and increasing Your returns even more. This article explains in a very detailed manner how it works and what is the difference in terms of performance over time.
Also, if you want an early exit from a project, you can sell either part of your claim units or everything. For the buyer, the 1% fee applies (the same as on the primary market) and for the seller, it is for free.
One useful feature to know is the fact that if you buy rental projects, the income for the whole month will go to the investor who holds the claim unit at the time of the income payout. For example, the seller owned claim units for 29 days, and the buyer owned them for 1 full day of the month, in this case, the buyer will receive all the dividends accrued during the period of 1 month. Taking all that into account, to date, this is one of the most advanced and best performing secondary markets I have used and its concept is similar to the stock market.
New project types
Apart from their rental projects, Reinvest24 added 2 new project types – real estate-backed loans and development projects. In terms of real estate-backed loans – they give the financing to the 3rd party developer. The developer in most cases is KIRSAN – an experienced international company, who is known for implementing numerous successful projects in Spain, Latvia, Switzerland, Germany, Romania, and Moldova. Recently KIRSAN become a shareholder in Reinvest24.
As per development projects, it is a loan, where the financing is used to purchase a property in order to build and sell it. Also, here they don't lend money to a 3rd party but purchase the property and manage the process in a similar way that they do with the rental projects.
Strengthening platform's financial stability
In May 2021, Reinvest24 announced an increase of the platform's share capital from €2,500 to €125,000. This is not a big deal for me, but definitely move in the right direction. Also, the latest annual report is publicly available in English or per request from the platform itself.
Lowering fee in half
Last year ReInvest24 introduced a lower fee of 1% instead of 2%. It is used to cover property acquisition and the platform's operational expenses. And recently the team of Reinvest24 informed me that soon we can expect some interesting changes to happen. Can't wait to see what it is! Do You have any ideas?
Reinvest24 Portfolio performance
Here are some important numbers about Reinvest24's portfolio performance:
Average project duration (excluding the rentals) – 9 months;
Projects published – 102 (including tranches, 49 excluding tranches)
Default rate – 0%
Capital loss – 0 EUR (most important metric for me)
Average loan size – 155,000 EUR
The best performing project – 24.3% p.a.
Recently Reinvest24 published their 100th project and to date, none of the projects went into default or faced any capital loss. In fact, 32% of projects are already successfully exited. The best performing project has generated a total of 24.3% IRR. Also, the new markets, such as Latvia and especially Moldova delivered successful exits and great returns to the investors.
Below I share some interesting statistics about their historical projects, which shows the spread per country and project types: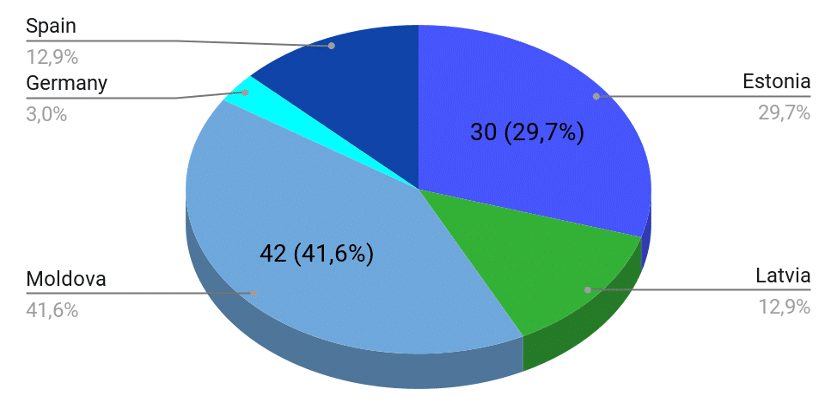 It is important to mention that all the properties are secured with a first rank mortgage. It means that if something goes bad with the project or the platform itself, the collateral can be sold, and funds can be received back.
Advantages and disadvantages of Reinvest24
For more than 3 years of investing with Reinvest24, I have had the opportunity to evaluate what are the platform's advantages and outweigh its disadvantages.
Advantages (Pros)
Proven P2P platform – has been operating since 2018, over 100 funded projects (49 excluding tranches), more than 11,000 investors.
Excellent portfolio quality – secured loans with an average LTV 50%, default rate 0%, and zero losses for investors.
Excellent management work – During COVID, the platform did not have any major issues or defaults and overall was among the best platforming in terms of how issues were handled.
High yield – the average yield is 14.9%, which is one of the highest interest rates for real estate projects. Also, on investments over bigger amounts, some projects offer an additional percentage.
Short terms – you can invest in projects with a duration from 1 month up to 36 months.
Diversification among geographies and loan types – Reinvest24 offers investment options in 3 different loan types (development projects, real estate backed loans, rental projects) from 5 markets (Estonia, Latvia, Moldova, Spain, and Germany).
Access to the developing market – The first real estate platform, where you can invest in Moldova – a market with big potential in terms of developments and property price growth.
High level of security – usually, it is a first-rank mortgage, where LTV does not exceed 50%. As per the projects that have several stages of funding, the LTV is lower or equal to 50% at any stage of its duration. It means that collateral coverage for the total amount issued to the project is at least 200% at any time, which is a really outstanding product quality proposition.
Active secondary market – an opportunity for an early exit from the investment (without commission for the seller);
High level of transparency and excellent communication with investors – very comprehensive project updates, video overviews, and overall communication. Check their very useful Insider updates.
The Highest ranked platform on Trustpilot. Based on the investor's experience Reinvest24 score is 4.7, which defines as "Excellent" and to date is the highest on the market. For comparison, Peerberry has 4.5 and EstateGuru has 4.3.
Soon to become a regulated platform – Reinvest24 is in the final stage of becoming a regulated platform.
Disadvantages (Cons)
No Auto invest tool – only manual investment is possible so far. At least for real estate investments I still give preference to manual investing, so that's not a problem for me, but for some it could be.
Stage projects – There is no indication of how much you have invested in the previous stages of a project, so it is not easy to control the total invested amount in each project.
Fees – 1% fee for buying on sale on the secondary market and € 1 fee for withdrawal, regardless of the amount.
No statistics available on the platform – at the moment the statistics are not available on the platform. They assured me that the team is currently working on implementing them and soon it will be available.
My opinion about Reinvest24
My opinion about Reinvest24 is very positive. I really like the platform's excellent track record and very high yield. I invested in all the projects on the platform except the very first two. For more than 3 years of investing there were just two projects delayed, which were successfully exited at a quite nice profit. I also invested in the highest-performing real estate project on the platform with a ridiculously high 24.3% return rate (IRR).
My investment portfolio grew over the years and currently is about €7000, my net return is just above 14% annually which I really like. Take a peek at some of the projects I am currently invested in.
Invest now and get a bonus
If you decide to invest in Reinvest24 you can get a small €10 welcome bonus as well as an additional bonus of up to €200 from their Autumn bonus campaign which is good until 30th of November 2021.

Registering through this link https://bit.ly/ReinvestSN will give you a €10 welcome bonus. Right now, Reinvest24 has an Autumn bonus campaign for new investors going on, which will give you the opportunity to get the bonus up to €200, after investing at least €500 before the end of November 2021. Don't miss this opportunity, as the platform is gaining momentum. You can find more information here.
Reinvest24 alternatives
There are some quite good alternatives of Reinvest24 for real estate investing. Amongst them are EstateGuru, Rendity and the aggregator platform EvoEstate. I really like and use all of them them, so I encourage you to check them out. All these platforms have very good track record, but I can say that Reinvest24 is offering the highest yield and highest level of transparency.
I also like the fact that Reinvest24, as well as Rendity projects, are listed on EvoEstated also, which brings some additional layer of security for me since there is another 3rd party performing due diligence on them.
Join the discussion
I would like to hear your opinion and discuss Reinvest24 and other P2P platforms available for European investors in my Facebook group https://www.facebook.com/groups/P2PLendingEurope/. You guys are very welcome!